Downtown Vancouver Dentists & Services
Max Dental @ Yaletown is where you can find your downtown Vancouver dentists. We offer a variety of dental services to achieve comprehensive oral healthcare and smile solutions for all your dental needs. See all of the services we provide below.
DENTAL SERVICES YOUR VANCOUVER DENTISTS OFFER
Dental Sealants, Laser Dentistry, Oral Sedation, Pediatric Dentistry, Sports Mouth Guards
Our full list of services
Basic Restorative Dentistry
Bridges
Composite Fillings
Cosmetic Dentistry
Crowns
Dental Bonding
Dental Financing Programs
Dental Insurance
Digital X-Rays
Evening Appointments
Extractions
General
Gum Contouring
Hygiene
Inlays and Onlays
Invisalign® Clear Aligners
Laser Whitening
Mercury-Free Fillings
Night Guards
One Appointment Crowns
Oral Cancer Screening
Oral Sedation
Root Canals
Sealants
Sedation Dentistry
Sports Mouth Guards
Take Home Whitening
Teeth Whitening
VELscope Exams
Veneers
Weekend Appointments
White Fillings
Wisdom Teeth Extraction
Zoom! Whitening
Comprehensive Downtown Vancouver Dental Services For All Ages
We are accepting new patients of all ages. Max Dental at Yaletown is your comprehensive downtown Vancouver dental services provider for all the members of your family.
Contact us, your Vancouver dentists, to request an appointment at our conveniently located dental clinic in Yaletown. Our staff is ready to help you find the next available appointment that suits your schedule and that of your family members, so you can all join our growing dental family.
Your Vancouver Dentists Are Here For You!
If you have any question about all the dental services we offer or about our practice, please call us, your Vancouver dentists, or contact us via our online form. We are here for you!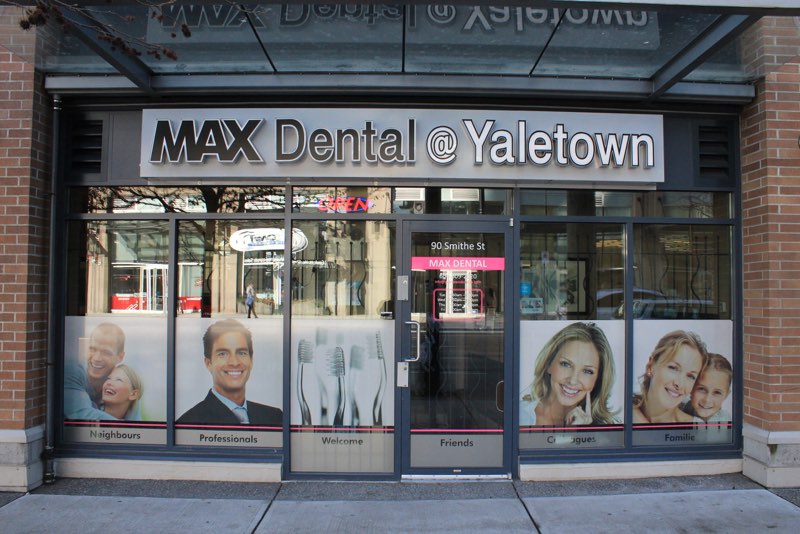 Come Meet Your Yaletown Dentists